One of the biggest story lines heading into the year of 2014 was this: will bro-country ever die off? Early signs weren't promising, with the likes of "Bottoms Up", "Drink to That All Night" and "Get Me Some of That" becoming smash hits, but as the year progressed, bro-country began to dwindle, with many artists veering towards more substantial music. This has led to a year full of big headlines, and noteworthy singles. Without further ado, here is The Shotgun Seat's 2014 year in review.
Eric Church releases polarizing The Outsiders album
Eric Church has never been one to play things safe, as far back as his debut project Sinners Like Me, and The Outsiders is his most adventurous record to date. The album is a mix of classic country ("A Man Who Was Gonna Die Young"), metal ("The Outsiders"), rock ("That's Damn Rock and Roll"), and pop-country ("Give Me Back My Hometown") formulas, making for a collection that received mixed reception among country music fans. However, despite a large group of people not liking the album at all, it has garnered Album of the Year nominations at both CMA, and Grammy awards. Say what you will about the album, but there is no doubt that it was a game changer in 2014.
Hunter Hayes releases the touching "Invisible"
While Hunter Hayes' lead single for his sophomore album, "Invisible," failed to move the needle much at country radio, it certainly touched many people emotionally, even outside country music circles. "Invisible" is centered around the theme of high school bullying, and has served as an anthem of sorts for the sensitive topic. It may not have been a top five radio smash, but it's cultural impact makes up for that, and it has recently received a Grammy nomination for Best Country Solo Performance.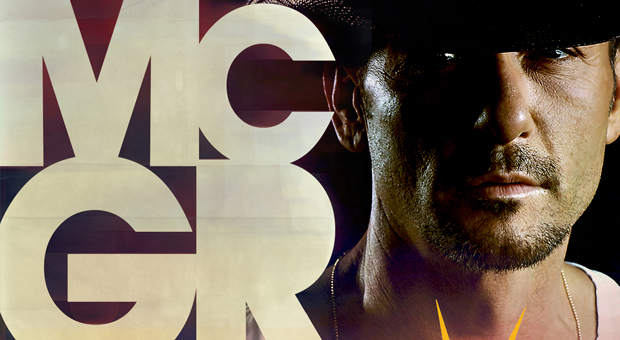 A Tale of Two Tims
Tim McGraw managed to annoy critics and fans alike with his auto-tune drenched, borderline perverted lead single "Lookin' For that Girl," and it didn't appear that Radio PD's were overly impressed either, as "Lookin' for That Girl" only managed a peak barely inside the top 20. However, Tim returned shortly after with the excellent, critically acclaimed "Meanwhile Back at Mama's" which has since peaked at #2 on the airplay chart, garnered award nominations, and has been certified Gold. The rest of his 13th studio album followed suit with the aforementioned "Meanwhile Back at Mama's," serving as a throwback to McGraw's glory days. Safe to say that if the label had to choose between "Lookin' For that Girl" Tim or "Meanwhile Back at Mama's" Tim, they'll pick the latter.
The Return of Garth Brooks
Yes, it finally happened, the long anticipated wait of Garth Brooks. And of course, he did it in bombastic fashion, starting up his own version of iTunes titled GhostTunes, selling out venues with ease, and a ClearChannel hourly play deal. It's safe to say however, that the comeback did not meet expectations. His new single "People Loving People" debuted just inside the top 20, and failed to do anything else; his album sales, while excellent by most standards, underwhelmed; and GhostTunes has done next to nothing. This was hyped up to be the biggest thing in music in 2014, and it bombed big time.
Florida Georgia Line digs deeper with "Dirt"
The moment bloggers everywhere had been waiting for, a single with substance from Florida Georgia Line. "Dirt" is a song built around the concept that in the end, we all go back to where we came from, using a dirt metaphor as the hook. It's a song that received positive reviews from outspoken Florida Georgia Line haters such as Farce the Music and Saving Country Music, while also being a commercial mega-smash, going #1 with relative ease and being certified platinum. Yes, they killed whatever goodwill they made with critics by releasing their sophomore album Anything Goes, but this still serves as a turning point for country music in 2014.
Sturgill Simpson explodes with Metamodern Sounds in Country Music
In 2013, Sturgill Simpson introduced himself to the underground scene with his critically lauded debut album High Top Mountain. In 2014, Simpson has released the most critically acclaimed album of the year, topping many year end lists, both within and outside of the country music community, and has experienced tremendous commercial success for an underground artist. In addition, Simpson will be touring with the Zac Brown Band, won Breakout Artist of the Year at the 2014 Americana Awards, and has been nominated for a Grammy (Best Americana album). Who knows, maybe he'll soon get picked up by a major label and garner something that resembles mainstream airplay – the sky's the limit for this talented newcomer.
Jerrod Niemann releases controversial "Donkey"
Yes folks, there was a song released in 2014 titled "Donkey," though you'd be forgiven (and likely envied) had you not heard it before. "Donkey" bombed, not even cracking the top 40 on the country airplay chart. But what "Donkey" did do is spark debate among country music fans. There's one side that loves "Donkey," a group of people who appreciate the novelty behind it. There's also a (much larger) group of people who think the song totally sucks, and is the worst thing to ever happen to country music. There's one thing we can all agree on though, and that is that "Donkey" is certainly not boring, and that it provided some hilarious meme material for Trailer of Farce the Music.
Maddie & Tae release anti-bro anthem "Girl In a Country Song"
Scott Borchetta is a brilliant business man. First he builds up this party empire that dominates country radio, and just as soon as listeners show signs of fatigue, he pounces on it and releases "Girl In a Country Song" to radio. Maddie & Tae, a couple of 19 year old girls, recorded and released one of the most electrifying radio singles of the 2014, and it was met with positive reception by not just critics, but also radio and its listeners. The song recently hit #1 on the airplay chart after a relatively smooth ascent, and has been certified gold by RIAA. Time will tell if Maddie & Tae are here to stay, but early indications are promising.
Sam Hunt bursts onto the country music scene
2014 brought us the most explosive breakthrough since Florida Georgia Line in 2012. His name is Sam Hunt, and his breakthrough single "Leave the Night On" has become one of the biggest hits of the year, going #1 with ease and nearing platinum certification in sales. His debut album Montevallo sold 70,000 copies in its first week of sales, and he's had to add extra dates to his upcoming headlining tour due to high demand. Add in the fact that album cut "Breakup In a Small Town" is nearing a gold certification without ANY type of airplay, and you have a guy who is poised to have a long, successful career in the country format, no matter how much his music veers towards pop.
Dierks Bentley experiences mid-career surge in momentum
After the wonderful "Bourbon in Kentucky" stalled outside the top 40, many were concerned about the future commercial success of veteran hit-maker Dierks Bentley. Yeah, no one's having that concern anymore. After the aforementioned "Bourbon in Kentucky" failed to leave a dent on the airplay chart, Dierks followed it up with the personal, heart wrenching "I Hold On," a song that took half a year to peak, but went #1 and was recently certified platinum. The success of "I Hold On" triggered the release of the critically acclaimed Riser album, and the release of multi-week #1, platinum certified and CMA Single of the Year nominee "Drunk On A Plane". Now his new single "Say You Do" has picked up the pace in terms of airplay, and Dierks looks poised to make the jump to the A-list in 2015.
Jason Aldean releases controversial "Burnin' it Down," gets shutout by CMA's
A lot of eyebrows were raised after hearing Jason Aldean's platinum mega hit "Burnin' it Down." The controversial "making love" song is heavily influenced by the musical stylings from genres like R&B and pop music, making for one of the most talked about and most polarizing songs of the year. It's unlike anything that Aldean, an artist who is generally known for his mid-tempo rockers, has ever recorded. Many have connected the backlash brought on by "Burnin' it Down" to his subsequent snub at the CMA's, where he did not receive a single nomination, not even in the Entertainer of the Year or Male Vocalist of the Year categories where he has been a mainstay for ages. It was certainly an interesting 2014 in the Aldean camp.
Brandy Clark receives nominations at CMA's, Grammy's
Of all the new artists recently, you may be surprised to hear the name Brandy Clark mentioned when we talk about the most recognized newcomers, but it's true. Brandy Clark received CMA nominations for New Artist the Year and won Song of the Year ("Follow Your Arrow"), and now it's announced that she'll be nominated for Country Album of the Year at the Grammy's for 12 Stories, and she's also up for New Artist of the Year for all genres. For a genre that severely lacks big name female artists, it's beyond encouraging to see Clark get this kind of buzz. Feel good story of the year.
The Shotgun Seat is founded
Come on now, we all know what the real highlight of the year was for country music.
NOTEWORTHY SINGLES
(Note: noteworthy does not necessarily mean biggest hit. We take chart success, sales success, and overall impact into consideration)
"Follow Your Arrow" by Kacey Musgraves
"Bottoms Up" by Brantley Gilbert
"Burnin' It Down" by Jason Aldean
"Dirt" by Florida Georgia Line
"What We Ain't Got" by Jake Owen
"American Kids" by Kenny Chesney
"Donkey" by Jerrod Niemann
"Sun Daze" by Florida Georgia Line
"Play It Again" by Luke Bryan
"Chillin' It" by Cole Swindell
"Neon Light" by Blake Shelton
"Girl In a Country Song" by Maddie & Tae
"I Hold On" by Dierks Bentley
"Give Me Back My Hometown" by Eric Church
"She Don't Love You" by Eric Paslay
"Girl In Your Truck Song" by Maggie Rose
"Leave the Night On" by Sam Hunt
"Meanwhile Back at Mama's" by Tim McGraw featuring Faith Hill
"This Is How We Roll" by Florida Georgia Line featuring Luke Bryan
"Beat of the Music" by Brett Eldredge
"Drunk on a Plane" by Dierks Bentley
"Automatic" by Miranda Lambert
"Something In the Water" by Carrie Underwood
"People Loving People" by Garth Brooks
"Invisible" by Hunter Hayes